Adventure Tourism in Bhutan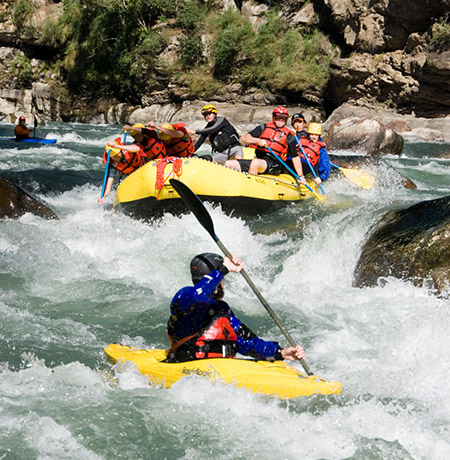 Bhutan Adventure Tour is an opportunity to those who are willing to take risks in pursuing one's dreams of experiencing million new things with their single step.
If you are thinking of coming to Bhutan, we will be delighted to share our experiences of tangle of adventures, both joy and sorrow. Bhutan Adventure Tour is a mesmerizing token of gift and your holiday. Bhutan is filled with beauty, charm and adventures, be it all manners of exciting outdoor activities such as trekking , hiking, Mountain biking, cycling, rafting and cultural sightseeing in to its unexplored virgin land of Himalayan kingdom of Bhutan.
Through Adventure Tour in Bhutan, explore every corner in to Bhutan; admire its history, geography and culture. Meet unlimited joy, find new friends, feel things you never felt before. Whatever you experience from your journey to Bhutan is worthwhile and worth celebrating. Take time to escape from monotonous boundaries to new horizon of exploration.
Travel for your own sake. Walk deep inside the forest, climb the mountains, taste the fresh mountain water. Feel the wind, sing with gently flowing water. Watch cheerful youth passerby and folks feeding their cattle. It is still an adventure. Count every little thing you experience. Your true happiness begins here. See what life of adventure is all about. Dream the million dreams. They are of all forms and shapes.
Whether it's rafting and fishing down crystal clear, glacier-fed rivers or trekking through lush, virgin forests Bhutan offers a one-of-a-kind experience for travelers seeking adventure in an unspoiled and unexplored environment.
Just swift off to road and go wherever it takes. Life without adventure is incomplete. Adventurous life is the greatest reward. Travelling definitely heals a troubled heart, ways for re – discovering individual self, and restarting the lives. Trust Bhutan Adventure Tour, for it brings a new round of trips and adventures. Let's together begin stepping out to the road to joy and bliss. Make a vow never to give up journeying.